Thessaloniki is a modern city with over 1 million inhabitants. It is the largest city in northern Greece and the second largest in the country. In Greece, it is considered the "second capital". After Athens and Heraklion international airport, Thessaloniki airport is Greece's third-largest airport by passenger volume. With more than 6 million passengers serviced in 2016, it was Greece's third busiest airport in terms of people served and second most active in terms of flights since it opened in 1930.
As a result of a billion euro investment by Fraport Greece, the corporation that runs the airport, a second terminal was built to cope with the growing demand and increase in tourists. Right now it serves passengers from 20 different countries and 17 different airlines. Compared to previous years there is a constant increase in the number of passengers visiting the city. Moreover, the top 5 countries that have flights to and from Thessaloniki airport are Germany, Italy, Cyprus, Israel and the United Kingdom.
Where is Thessaloniki Airport situated?
The second-largest city in Greece is south of the airport. Thessaloniki and the peninsula of Chalkidiki are easily accessible by car from the airport, because of the accessibility of roads A24 and EO16. The city center lies only 30 minutes away from the international airport of Thessaloniki.
What flights are operated at Thessaloniki Airport?
Thessaloniki Airport (SKG) operates both domestic and international flights. Some airlines that serve the airport include Aegean Airlines, Ryanair, EasyJet, Wizz Air, and Lufthansa. The airport offers flights to various destinations in Europe, including Athens, London, Paris, Berlin, Vienna, Rome, and many more. The number of flights and destinations may vary depending on the season and demand. It's best to check the official website of the airport or of the airlines operating in Thessaloniki for the most up-to-date information on flights and destinations.
How many terminals does Thessaloniki Airport have?
The airport in Thessaloniki boasts a sizable, contemporary terminal. The terminal has recently undergone renovations and has doubled in size. There are 24 boarding gates and 44 check-in counters at the terminal. The arrivals area is next to the taxi rank and bus stations on the ground level.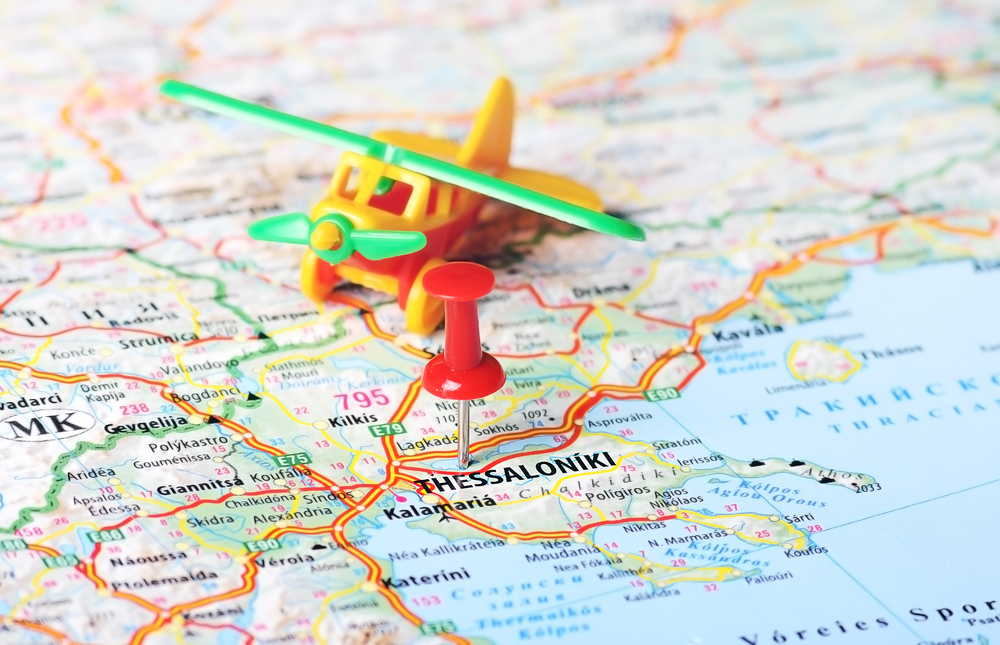 Terminal facilities of Thessaloniki Airport
Thessaloniki airport (SKG) provides a range of facilities and services to ensure a comfortable and convenient travel experience for its passengers. Some of the terminal facilities at the airport include:
Retail outlets
The airport has several duty-free shops where passengers can purchase a variety of products, including cosmetics, perfumes, liquor, and tobacco.
Food and Beverage
The airport offers a variety of dining options, including restaurants, cafes, and snack bars, serving a range of local and international cuisine.
Banking and Currency Exchange
ATMs and currency exchange services are available in the terminal building for passengers to access.
Wi-Fi
The airport provides free Wi-Fi services to passengers throughout the terminal building.
VIP Lounge
The airport offers a VIP lounge for passengers who want to relax in a more exclusive and comfortable setting.
Luggage storage
There is a luggage storage area for passengers who want to store their luggage during their layover.
Medical facilities
The airport has a medical center for any medical emergencies.
Other amenities
The airport also provides services such as prayer rooms, tourist information, and a lost and found office.
Choose Elite Transfer
Elite Transfer provides private transfer services with vehicles and drivers to and from Thessaloniki Airport (SKG) and any destination inside Greece. We offer you an easy and safe way to travel to your desired destination. Your transportation is done by professional drivers and with air-conditioned, comfortable, approved, and insured vehicles. Our priority is to ensure you reliable and safe transport. Book now!