An exciting vacation spot
Sani Resort in Greece is one of the most popular holiday destinations. More specifically, it is located at the first peninsula of Halkidiki, Kassandra and is a private resort of 4,500 acres overlooking Mount Olympus and the Aegean Sea.
Natural and artificial beauty
The deep blue sea, the lush vegetation, the state-of-the-art marina and the luxury hotels make Sani Resort one of the most attractive destinations. If you take into account the Greek hospitality, the hotel facilities, the good food and the friendly service of the staff, the holidays in Sani are a life experience that you should not miss!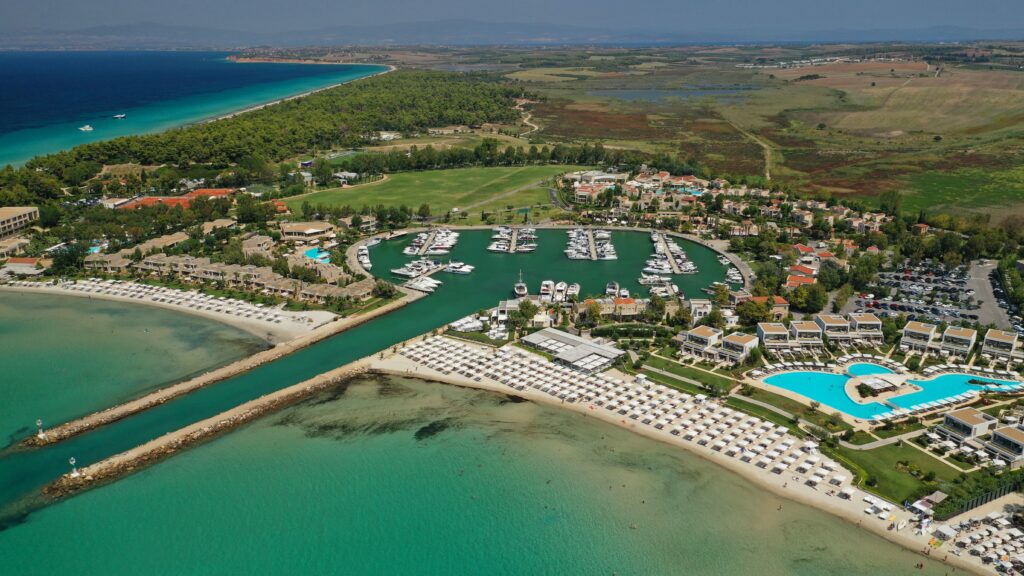 Sani Resort is an ideal family destination with international recognition
Sani Resort has been awarded as the "Top Green Hotel Complex" in the world, as well as the "World's Leading Family & Beach Resort" for 2020 at the World Travel Awards! These awards essentially recognize Sani as the ideal destination for your family.
Gastronomy
In the area of ​​Sani, you can dine in some of the best restaurants in Halkidiki. The chefs have prepared special and tasty menus for you and your children. You will find a wide variety of options and you should definitely try the local products of Halkidiki such as olive oil, olives, honey, oregano and wine.
Activities and sports
Sani Resort in Greece offers guests a full range of activities and sports to ensure that every stay is a real treat. You can try different wines from the local wineries, play tennis, go hiking or diving, sail trips, do water sports, archery and much more. Your children can participate in Sani Academies programs and live unique experiences. Also, every year Sani hosts the Sani Festival, one of the top music festivals in Europe.
Hotels and residences
The enchanting hotels in which you can enjoy your stay are Sani Beach, Sani Club, Sani Dunes, Porto Sani and Sani Asterias. Of course, in addition to the hotels, there are also luxury rental homes where you can stay.
How to get to Sani Resort in Greece?
The nearest airport to Halkidiki is Thessaloniki Airport. Once you land at the airport there are 2 options:
 Take a bus or taxi to the bus station that goes to Halkidiki. (Estimated travel time 3 hours)
 You have already booked on our page. (Estimated travel time 45 minutes)
Our services
In any case, Elite Transfer is by your side so that you don't have the extra transfer stress to Halkidiki and particularly in Sani Resort in Greece. We provide you with the best services and guarantee you safety, comfort and consistency. All you have to do is make a reservation through our platform or call us at +30 6977595354!