Why should I visit Halkidiki this Summer?
We may be in the middle of winter, but everyone's mind is already on sandy beaches and exotic destinations. However, this is the right time to start planning your summer vacation, as this way you will save money and manage to organize everything properly, in order to have the best vacation possible! The first step in vacation planning is choosing the right destination. So for your summer holidays, there could not be a better destination than Greece! If you want to enjoy the warm sun of Greece, its blue-green waters and its endless beauty, the ideal destination for you is Halkidiki! Below you will find just some of the reasons that make Halkidiki a very attractive destination!
5 Reasons Why Halkidiki is the Best Place for Summer Holidays
Halkidiki is without a doubt one of the most beautiful places in Greece. From lush green forests, incredible mountainous landscapes, tiny traditional villages, ancient ruins to marvelous monasteries, Halkidiki's diversity is uncanny. The multitude of options that Halkidiki offers, makes it an ideal choice for both family holidays and holidays with friends. If you aren't already convinced to visit Halkidiki, below you will find 5 reasons that make it an ideal destination for summer holidays.
Easy access to beaches
Halkidiki is known for its three peninsulas, Kassandra, Sithonia and Athos. In whatever part of Halkidiki you choose for your vacation, access to the beach will be easy and fast without any doubt. Also, very important is that Halkidiki offers its visitors the possibility to visit beaches for all tastes. That is, in Halkidiki you can find organized beaches with lots of people, loud music and interesting beach bars, but also wild, rocky beaches where one can seek peace and tranquility and enjoy the natural beauty.
Family-friendly
The Greeks are known as one of the most hospitable people in the whole world. In Greece you will always find people on your way smiling and willing to help you with whatever you need and make your stay as fun and beautiful as possible. In particular, the positives of Halkidiki include the fact that it is an ideal destination for both families and couples who wish to spend some quiet days relaxing, doing activities and exploring new places.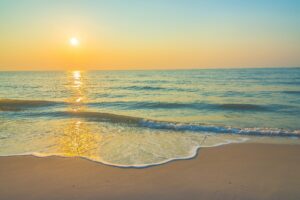 Picturesque villages
Halkidiki, apart from the wonderful beaches with the blue-green waters, also has beautiful villages with wonderful natural landscapes. Its villages, whether by the sea or in the mountains, are suitable for exploration, endless walks, hours of relaxation in the picturesque alleys and beautiful photos in idyllic landscapes. As you understand, the influencers in your group will fall in love with these places and you will certainly leave with many photos to always remind you of the excellent experience you will definitely have in Halkidiki!
Local food
Greece, apart from its beautiful landscapes and wonderful beaches, is also known for its special and delicious food! In Halkidiki you will have the opportunity to taste all these distinct flavors, from the traditional moussaka to the famous souvlaki! In addition, Halkidiki produces excellent quality wine which is definitely worth trying!
Mount Athos
Mount Athos is at the third peninsula of Halkidiki and it is a unique and protected area, known all over the world! It is an important sacred place for Orthodox believers. It is only a monastic community and an autonomous area. Access to this place is restricted by a thousand-year-old tradition, according to which only a hundred Orthodox believers and ten non-orthodox believers are allowed to approach the place per day. The closest to the holy mountain you can get is taking a boat tour and swimming around at a distance not closer than one kilometer. Finally, it is important to mention that access to females is forbidden, and the males need special permission to enter.
What Elite Transfer can offer you
We at Elite Transfer provide you with the best services and guarantee you safety, comfort and consistency. Our luxury vehicles provide comforts capable of satisfying even the most demanding travelers. All you have to do is contact us. Make a reservation through our platform or call us at +30 6977769707!